Welcome to the Home of FASTER Health and Fitness
Qualifications, Education and Expert Guidance for Aspirational and Qualified Personal Trainers
We build successful fitness careers with qualifications, mentoring and our free career coaching call / texts.
Take advantage of our experience in the industry and let us book a call with you to take you through a coaching call. In this call we will help you by defining your outcomes, and then matching courses to get you to that goal.

We will build your a course bundle, to meet your budget, your learning style and match your career outcomes. Sometimes we will spen the time helping you find a course with a different provider.
Complete the following to book your free career coaching call. **This is not a sales call, we won't follow up unless you ask
To book a coaching call
Click the link to send a WhatsApp message to our business account,
Write in this message "Hi I want to book a career coaching call." (write text if you want to do it through messaging)
If you just want a specific question answering, please feel free to message that too
Then we will reply and set up a call or if you prefer, help you via WhatsApp messaging.
Please note that this is not a sales call, so we will not send the latest offers or call / text follow ups unless you ask us to, in which case we will book a specific time and date for the follow up call or text and stick to that.
Governing Body Certifications
Certificates from Focus Awards and Active IQ
\Learnworlds\Codeneurons\Pages\ZoneRenderers\CourseCards
Faster Specialisations and Support
Specialisations and Continuing Professional Development
\Learnworlds\Codeneurons\Pages\ZoneRenderers\CourseCards
Learn more with our blogs, philosophy and tutor profiles!
Developing Amazing Trainers
Qualify as a Personal Trainer or Strength and Conditioning Coach

Advance your career with advanced technical skills

Find more clients who pay more and stay longer with our business and social media skills

Join a company that pushes community and pushes to find opportunities for its trainers for their whole career
The FASTER Hub
Using everything we know about the science of motor skill development and performance training, we built the FASTER Hub.
The
Hub

becomes the

focal point

of all of your training which allows to build the

ultimate workout.

If you want to build and load

precise movements

, engage teams of people,

motivate individuals

, stand out from the crowd in your gym or park, then the hub is going to be the answer.

The concept was formed in 2010, and designed in 2012 for Personal Trainers who work with clients that need to

perform complicated movements

.

The current

FASTER Hub

is the fourth version and cannot be bought on its own, instead you get to join a club, which allows

you access to all

of our hub courses both online and live, as well as all future hub courses,

without further purchases

.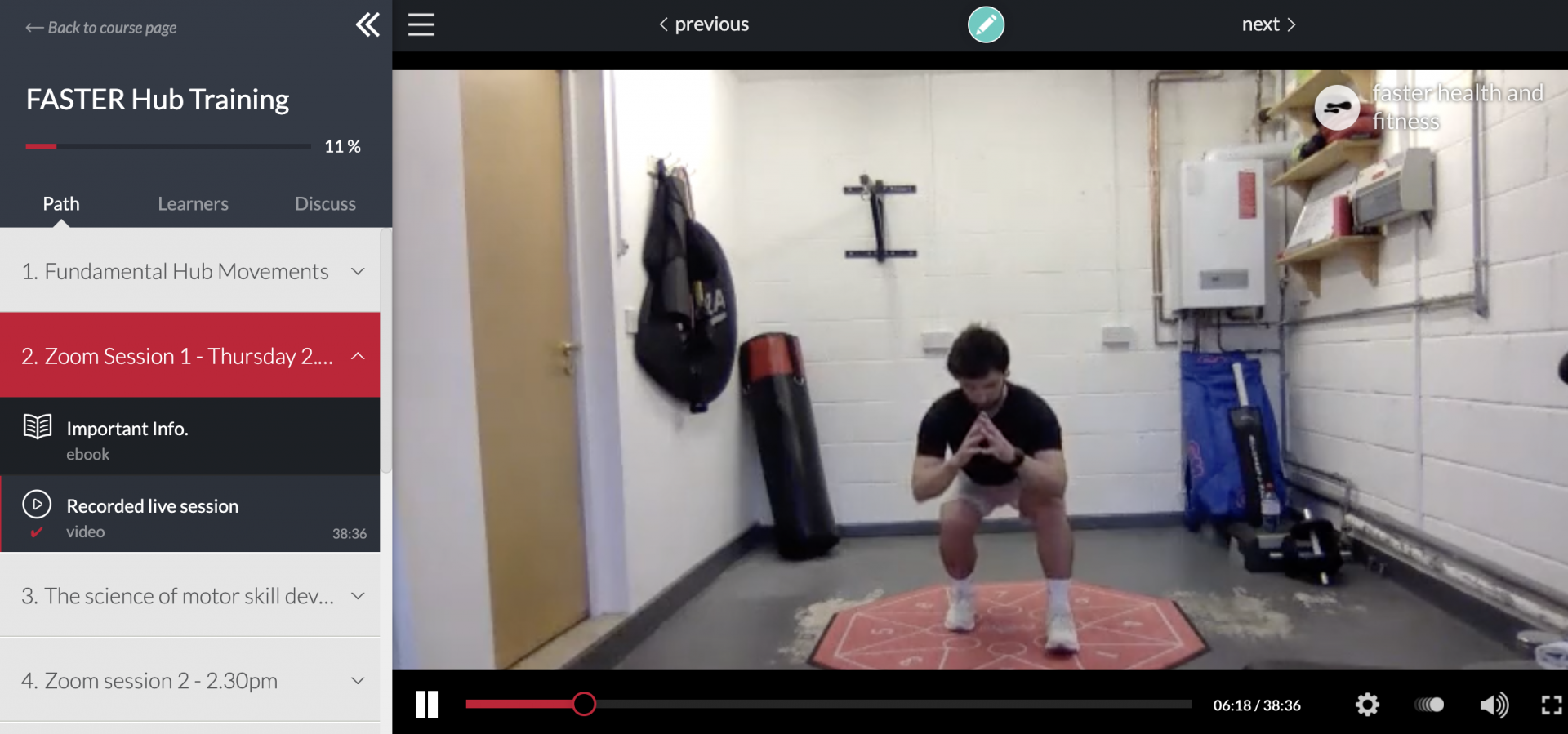 What do you need from your education?
Below is a description of the three major areas of fitness training we can help you with, including a guide to see if we can help you in your current situation.
Three stages to help you choose your education
Below is the advice I would give to my best friends, family and students if they asked me about making the right education decision. I hope this helps you too.
Know your outcome
Asking yourself the right questions upfront will help you establish which course and company is right for you. Here are some questions to help you.
What will give you job satisfaction?
Who do you want to end up training?
How many hours, days, and weeks in a year do you want to work?
How much money do you want to earn?
Where will you turn if things go so well you need help?
Where will you turn if you hit a hurdle or two on route?
Know your starting point
Understanding where you are now will help you plan your first course or bundle of courses. Here are some questions for you to consider.
Do you have any relevant, valid and current qualifications?
How do you like to learn?
How easy do you find it to learn?
What is important about the learning environment?
Apart from the course, what else do you want to get from the course?
What is your budget for the course?
Questions about the course
Once you have an idea of where you want to be and where you are starting from, then ask these questions of the course providers.

How long have you been teaching courses?
Which awarding body do you use for your recognised courses?
Which courses have you written yourself?
How do you keep students engaged after they finish a course with you?
Do you charge to come back and re-do your courses?
Can I easily get live assistance if I need it?


Meet the Trainers and Educators
These are the trainers, educators and the most vocal parts of our community who are so kind and passionate that they will drop everything to help you through any career problem they can. We strive to have a diverse range of trainers to make sure you can be helped from every angle, and give you a different opinion on the obstacles you might face.
John Hardy MSc
Big Cheese / Owner
A consultant in online and live learning in the fitness industry since 2001, John uses skills ranging from research techniques to stand-up to build his courses.
Joanne Groves
MSAS and Female Fitness Trainers
Tutor for MSAS, Author and Presenter for Digital Presenter and Director of Female Fitness Trainers group, Joanne is a presenter, educator and expert in the industry.
Justin Richards
Sports Performance / Stop Turn Accelerate
Stop Turn Accelerate tutor who also works in our Sports Performance team as an expert in speed conditioning and football specific training. Justin is former Professional footballer who has built an amazing business as a trainer, coach and product ambassador.
James Barr Msc
Senior product manager
Head of Sports Performance at FASTER, James is our expert that educates and delivers the latest research in our industry. With an active interest in the world of sport and science, James endeavours to improve the way elite athletes train and help educate coaches to do the same.
Kim Godfrey
Business / FSQUAD
Our business expert came from a corporate multi-million pound sales and marketing background, before becoming a highly successful Faster Trainer. Using her business experience she coaches trainers who want to grow their own business using the OMF system.
Ollie Pearce
Games for Pain / Injury to Performance
A passionate trainer and educator driven to help trainers to work with any clients struggling with pain, injuries or conditions. Using science, bad puns and stories to teach a process to ensure trainers can work with anyone.
Charlie Knight
Strength Training Tutor and Author
A lover of the world of strength sports and a hater of the nonsense that lives there! There's no 'cookie cutter' programme for all, no tradition or dogma, only results that will get anyone stronger than they imagined possible
Francesca Saccone
Pre Postnatal Author Tutor
A high level athlete, Mum and Personal Trainer, Francesca has spent her career building new Mum's bodies back up to full fitness as well as working with pregnant clients to help make the birth process as smooth as possible.
Mariano DiMarco
Senior product manager
Is currently on the faculty of Second City - The Harold Ramis Film School, he also teaches for Columbia College, where he teaches specifically on story telling through comedy in Television and film.Mariano has an MFA in Film, Cinema and Video studies Currently Mariano has his own writing group and consultancy based in Chicago.
Dan Farr
FASTER Hub Tutor
A personal trainer educated by Faster since 2012 and now delivers the Faster Hub Course. Passionate about delivering fitness sessions based around a clients experience.
Emma Woodcock
Holistic Training Course Tutor Author
A movement coach and studio-owner, Emma specialises in body weight exercise. Drawing on Pilates methods and FASTER techniques to deliver varied sessions for private clients and groups.
Pete Fry
Sports Injuries Recovery Tutor and Author
Pete coaching journey started in the fitness industry in 2008 which led him in to the field of rehabilitation, helping people overcome long-term pain and injury. Moving away from physical rehabilitation into personal coaching has allowed him to work with clients at a deep level, helping them make profound and lasting change in their lives.
David Cooke
FASTER Essentials / AIQ Tutor
David served in the Army for 12 years before transferring to the Army Reserves. Most of his operational tours involved training indigenous Army, Police or Para military forces and as an Officer Command regularly led his troops through training and preparation for deployments to various theatres of operation globally. As well as tutoring and assessing David runs a successful personal training and sports performance business .
Alison Graham
Females over 40 Specialist
Alison has worked in several industries and jobs before joining the fitness industry. Since becoming a Personal Trainer she has managed to build a reputation as a highly knowledgeable expert in Personal Training women over the age of 40, although with FASTER she has been amazing with clients of all ages with all goals.
Chris Woodhall
AIQ Trainer / Assessor
A fitness professional that has worked through the ranks from Fitness Trainer to General Manager, Chris has a background in professional sport and now works to develop Personal Trainers and Fitness Instructors.
Get in touch...
Faster has a passion to help the fitness, performance, injury and wellness industries to become better and more professional. Get in touch with us if you need help or advice and just want someone to chat to. It doesn't matter if you are a student, we will help you the best we can and you will know that we wont be coming back daily to make sales and marketing calls.
Contact details
Information
Address
3rd Floor, 86-90 Paul Street, London, EC2 4NE
Hours of operation
Monday - Sunday 9.00 - 21.00